Who makes more cash compensation, founders or non-founders?

More specifically, taking 2 similar executives (same position-title, similar years of work experience and equity holdings, working in companies that are at the same stage of development), will the executive who was a founder of the company make more or less than the executive who didn't help found the company?
Academic aside #1: From an academic perspective, past research on executive compensation has looked at executive compensation issues using the lens of agency theory. Agency theory suggests that the interests of opportunistic, self-interested executives ("agents") will conflict with those of owners ("principals"). However, my field work with founders suggests that they act less like the agents of agency theory and more like "stewards" of their companies. Stewardship theory (e.g., Davis, Schoorman et al. 1997 AMR) suggests that executives' interests will be aligned with company interests and executives thus be more intrinsically motivated than predicted by agency theory. In this study, I found stewardship theory's behavioral assumptions invaluable in illuminating the founder issues. New ventures, where founder-stewards work alongside nonfounder-agents, provide us with an excellent arena in which to examine how stewards might be compensated differently from agents.
My dataset for this paper is taken from my 2000, 2001, and 2002 IT start-up surveys (see the CompStudy.com link to the right, or the posting on "A Note on My Research Approach and Data" below) and includes 1,238 executives from 528 private companies.
Overall, the results suggest significant differences between founders and non-founders, with founders making significantly less than non-founders, even after accounting for their different levels of experience, equity holdings, stage of company development, etc. On average, this "founder discount" is about $30,000. However, the founder discount is smaller the larger the company, and is not statistically significant in larger start-ups (here, companies with 150 employees).
The chart below summarizes the founder discount, after controlling for experience, equity, company-stage, etc. The vertical axis is annual cash compensation (salary + bonus, in thousands of dollars), and the horizontal axis is the # of employees in the company.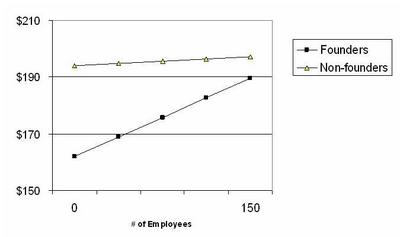 One implication is that it is possible for private-company CEOs to receive less compensation than their direct subordinates (quite a contrast to public companies in which CEOs are much more powerful, and thus earn far more, than their direct subordinates). Most strikingly, in my dataset, there is a high percentage of founder-CEOs who earn less than the CTOs or CFOs who report to them. Of the 290 CEOs who were founders, 77 (27%) made less than at least one of their direct subordinates and another 69 (24%) were paid the same amount as a direct subordinate.
Is the founder-discount voluntary (i.e., the founder willingly accepts less compensation) or involuntary (i.e., imposed by the board against the founder's will)?
Two tidbits from the paper capture the two sides of this issue:
Quote from a VC: "The founder CEO benefits from 'soft' compensation, such as greater psychic rewards, that a non-founding CEO will never be able to get."
Vignette from a Founder: The founder complained that his board was not taking seriously his threat to leave if he did not get a raise, and observed that a non-founder could more convincingly make this threat.
At its core, founders are more "attached" to the companies they founded, which can increase their "psychic rewards" (if they gain greater intangible rewards, they are probably more willing to take less tangible compensation, especially if doing so can help their companies). However, founder attachment can also act as "psychological handcuffs" that keep them at the company even if they aren't happy with their cash compensation. Boards can take advantage of this to under-compensate founders.
I haven't been able to find a way to systematically assess the degree to which the founder-discount is voluntary versus involuntary. I welcome your thoughts on the matter, or on any other relevant issues!
Academic aside #2: I presented an early version of this paper at the 2004 Academy of Management meeting (Business Policy and Strategy division), where it was included in the Best Paper Proceedings. A longer version of the paper just received a conditional acceptance from the Academy of Management Journal.
(Note: In related research, I am also examining various issues on the equity side of entrepreneurial compensation. Posts forthcoming in the coming weeks….)